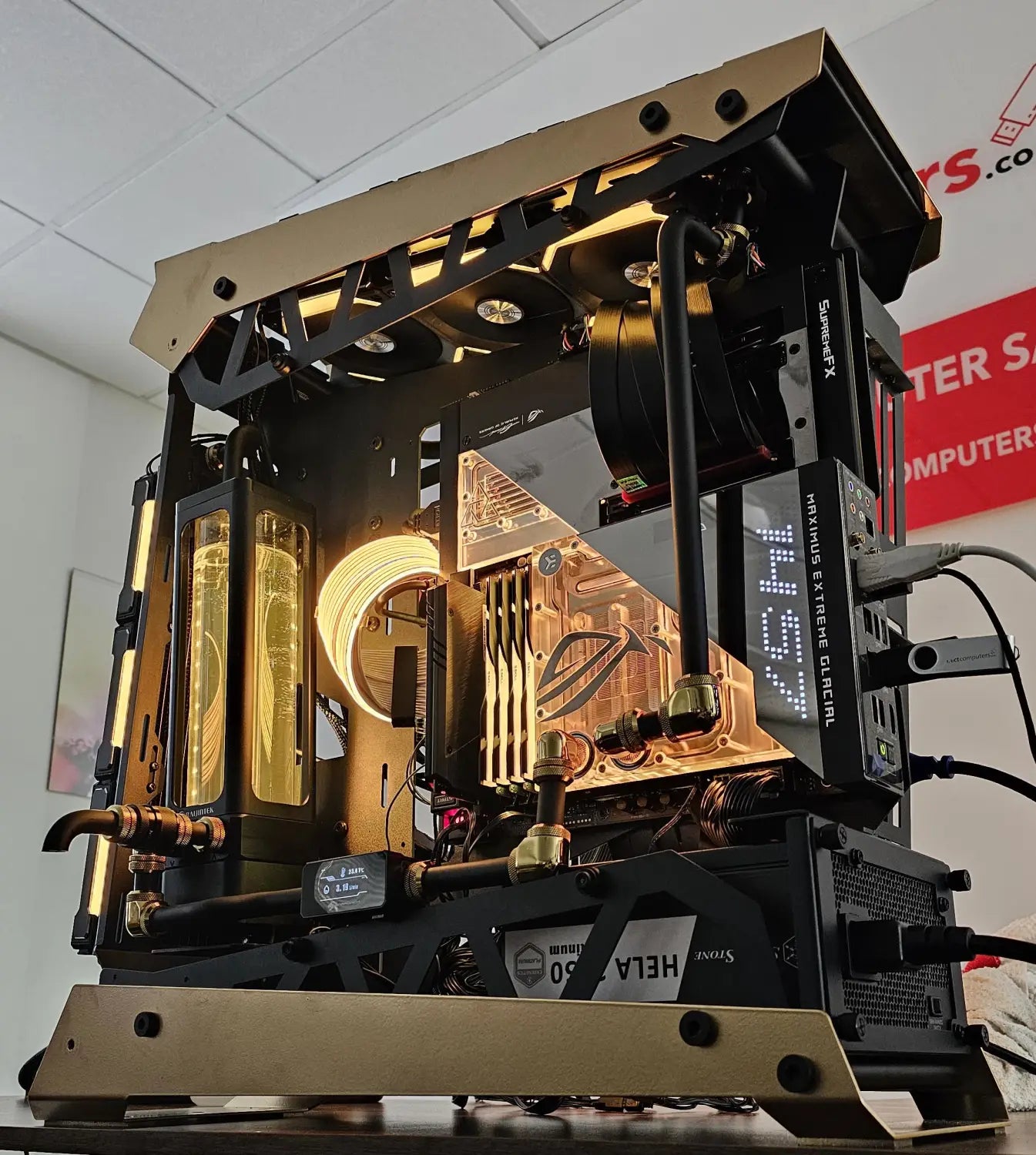 The Golden Build Part Two: The Specs
Following on from last week, we wanted to look at each individual component and really explain just how powerful and how impressive they are. So starting with: 
The Graphics Card
Nvidia GeForce RTX 4090.
Touted as: "Unquestionably, this is the best graphics card ever made" and even raising concerns that other components may struggle to match its pace, the 4090 is one of the newest and hottest graphics cards currently available. Leaving its predecessor, the 3090 Ti in the dust, performing around 60% better at 4k. 
The 4090 takes advantage of Nvidia's flagship Ada Lovelace architecture, implementing fourth-gen tensor cores and third-gen ray tracing cores to an impressive effect. It's much faster and energy efficient, able to perform incredible performance rates using its technology. Its base clock is 2,235 MHz and a boost clock of 2,520 MHz. Compared to the 3090 Ti's 1,560 MHz base clock and 1,860 boost, this is a marked step up. It's able to run rings around just about any game out there, even on their maxed out settings with ray-tracing pumped up to the maximum. 
We wrote about the differences between RAM and VRAM a few blogs ago [link] showing the importance and significance of it compared to different cards. The 4090 and the 3090 Ti have identical memory speeds, but it is the 4090's size and speed of available memory that set it apart and allow it to easily handle 8k gaming. Speaking of gaming, the 4090 can also handle the best PC games in native 4k resolution with ray tracing and no upscaling and get something approaching a good frame rate. 
A knock to this impressive piece of kit would be the price: it's a significant mark-up but if you consider the 4090 is an investment for the future, economically it's a smart choice if you plan to future proof your gaming PC. It's also rather large, requiring a GPU support bracket to keep it secure in your case.  
The Motherboard
ROG MAXIMUS Z690 EXTREME GLACIAL
This truly is a unique piece of hardware. One of the first of its kind to feature AI-assisted technology, this motherboard is compatible with a variety of processors and is designed with gaming primarily in mind. Some of our favourite highlights of this board include: 
Artificial intelligence tools 
 Exclusive to ASUS, the tools to aid the motherboard with its overclocking, cooling, networking and two-way noise cancellation are all aided by state-of-the-art artificial intelligence that, at the time we built it, was not available in the UK.  
Customisable 
Featuring an LED display allowing you to display anything from a custom message to the current date and time, this is just one of several features available to make the motherboard personalised to you. 
For a full break down of all the features this impressive motherboard sports, check out its official website here.
The Processor
Intel i9-13900k
"The Intel Core i9-13900K is one of the most powerful processors we've ever reviewed." 
If it's performance you're after, then you might want to consider the Intel i9 for the next build as an upgrade. With its latest iteration of Raptor Lake architecture, its cores maximise performance and efficiency, topping the charts of processors with its 24 cores and 32 threads, future proofing is the aim of the game for the Intel i9.  
This naturally comes with a hefty price tag, retailing at around £589. With a top performance across the board, it is top of its class, but if it's only gaming you're after, there are cheaper processors that can handle the most demanding games currently out on the market. The Intel i9 definitely provides huge performance gains, so if your pockets are deep enough, it might be worth an investment. 
The RAM
G.SKILL Trident Z5 RGB - DDR5 - Kit - DIMM 288-PIN - 6000MHz 
Source: official Youtube site 
Looking flash all dressed up in its RGB, the G.Skill uses DDR5, the newest trend in memory technology and gaining traction fast. Distributers are keen to utilise the new tech's ability in their RAM, with the hopes to reduce power consumption and doubling bandwidth.  
G.Skill have garnered themselves a solid reputation in the RAM market, and the Trident Z5 is no exception to that. Featuring its own app allowing easy control of its lighting, it avoids people needing to install 3rd party software to make their rig light up in a way that they want it to. It also seamlessly integrates with certain motherboard control apps, such as ASUS, Gigabyte, MSI and others. 
Undoubtably, the G.Skill Trident Z5 looks pretty as a picture. With RGB included with certain models, it will easily compliment the rest of your set up. Also included is a heat spreader that comes in either silver or black. And it doesn't just look good either, it performs well too. In tests performed by PC gamer, it out-performed a kit using DDR4 – but only just.  
The best thing about the Trident Z5 is how well it marries up to the latest processing power of the Intel i9 or the GeForce RTX 4090, meaning the user is unlikely to experience bottlenecking even when running the most demanding of programs. 
The SSD
Samsung 990 PRO
According to Tom's Hardware, the 2TB version of the 990 Pro is the fastest SSD they tested as of October last year. Providing a strong all-round performance with outstanding software and support. This SSD can even fit into the Playstation 5 console, among the usuals you might expect such as laptops and PCs. Retailing at around £234 for the base component, it's certainly not cheap, but the proof is in the pudding: the 990 Pro offers additional heatsink with RGB alongside its impressive technological achievements. 
The Power supply
Silverstone HELA 2050W 80+ Platinum PSU/Power Supply
Image: Silverstone official site
The 4090 graphics card and Intel i9 are certainly not thrifty when it comes to power consumption, and so to back those power-hungry components up, the Silverstone HELA 2050W 80+ Platinum is able to handle them. Small and sleek considering its power, it can deliver up to 2050W of power- just as its name suggests – with 230V input. With a 115V input, it can deliver 1650W as standard. Fortunately, UK outlets are designed with 230V as standard as their output. It also sports a 12-pin PCIe connector, one of the few PSUs to do so as standard. 
So that runs down the main specs of our Golden Build. Is there anything else you wanted to know? Perhaps you want a spec similar? We're always looking for the next challenge! Talk to one of our technicians today and build the PC designed just for you.