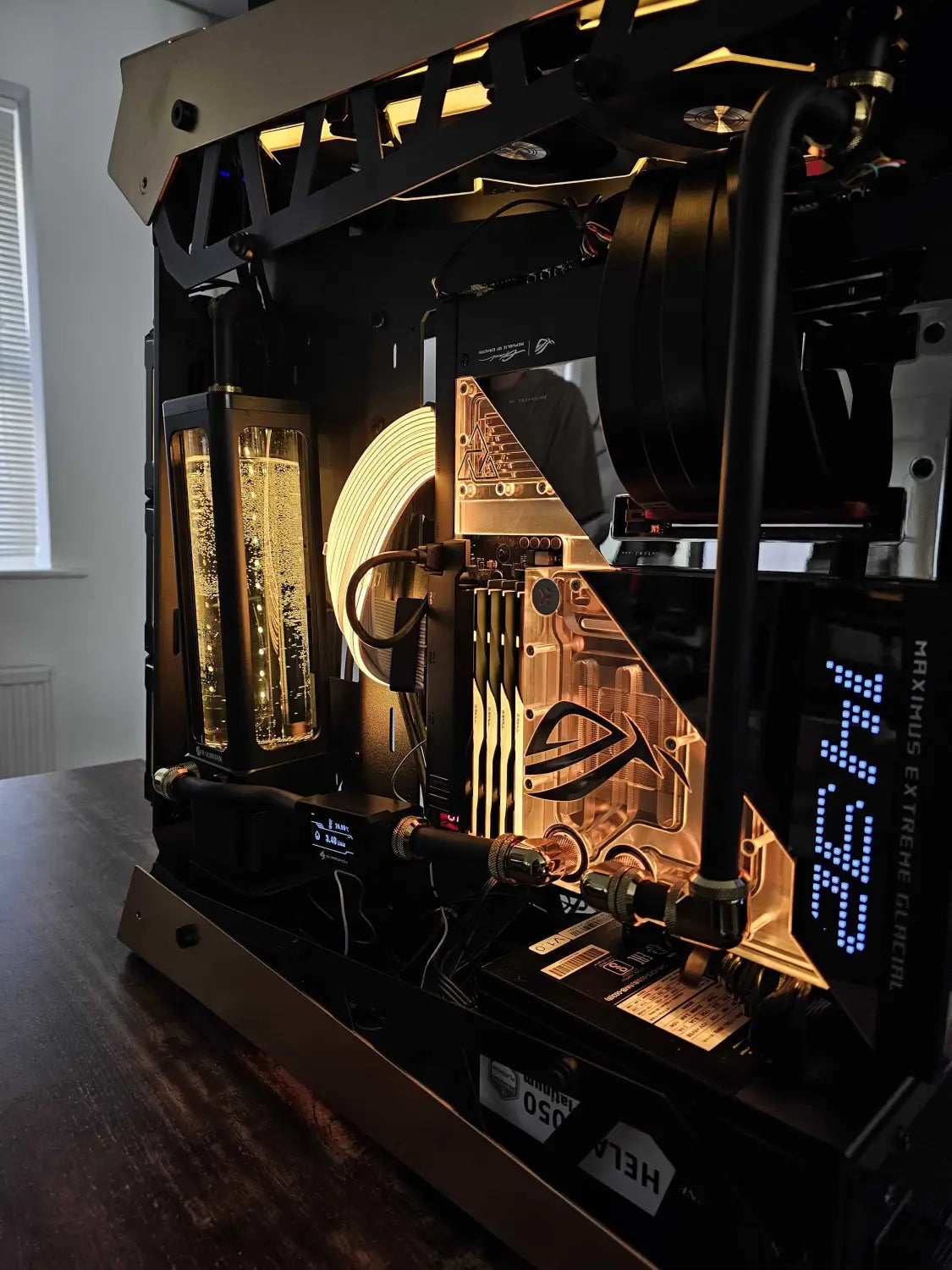 The Golden Build part one: Overview
We've been busy. 
Over the last month, someone approached us with the biggest project we've ever been challenged with. We've done custom builds before, but not ever on this scale. For a start, we've never had to bring the spray can in. If you follow us on Instagram, you might have seen our progress on this behemoth. 
The Brief
So how did we end up with this incredible opportunity? In their own words, our client approached us because after search the internet for websites that built custom PCs, they all said they didn't do custom water cooling. This is something we have done in the past for previous clients and have experience with building custom water cooling, and so they got in contact with our sales team. We were only happy to oblige. Together, we helped them build the PC to their exact specifications, from each individual component that complemented the next one. We advised on what components worked together, and which ones didn't. It truly was a collaborative process, and it was very satisfying to build this PC from the ground up, even down to the cables for the graphics card. An interesting challenge was the case, which we'll describe in more detail further down. 
The Specs:
For a quick rundown of the specs, they are as follows: 
Case: Rajjintek NYX PRO Aluminium Full Tower Showcase – Yellow Tempered Glass 
Motherboard: ASUS ROG Maximus Z690 Extreme Glacial Intel LGA 1700 
CPU: Intel Core i9 13900K 3.0GHz Twenty Four Core LGA1700 CPU 
RAM: G.Skill Trident Z5 32GB (16GBx2) RGB DDR5 6000MHz CL36 RAM x2 
GPU: ASUS ROG Strix GeForce 4090 OC 24GB Graphics Card 
GPU Cable: Silverstone 55cm 2 x EPS 8 pin (PSU) to 12+4 pin (GPU) 12VHPWR PCIe Gen5 cable 
M.2 Primary: Samsung 990 PRO M.2-2280 2TB PCI Express 4.0 x4 NVMe Solid State Drive 
M.2 Secondary: Samsung 990 PRO M.2-2280 2TB PCI Express 4.0 x4 NVME Solid State Drive 
Power Supply: Silverstone HELA 2050W 80+ Platinum PSU/Power Supply 
Watercooling components: Custom water cooling components using Corsair fittings, tubings and coolant. Rajjintek Reservoir and BarrowCH LCD Flow meter displays
To run down these specs briefly, the motherboard used is a world class AI-assisted motherboard that isn't currently available in this country at the time of writing. The custom-built water loop also uses acrylic pipes we routed through the system ourselves. At every stage we worked with the client to make sure they were kept involved and happy with every part and every decision.
The case alone sports impressive dimensions of: 
Width: 265mm 
Height: 658mm 
Depth: 595mm 
In short, it's a titan, both as a project and a PC! 
Primarily, this PC has been built for gaming and content creation. With a hefty 4090 graphics card and an Intel Core i9, processing and rendering should be a breeze. 
Over the years, we've become more and more ambitious with our builds, and as a consequence they've become more and more bespoke. Our customers love our variety of both pre-built PCs and our flexibility in people building their PC built exactly to their needs. We all love a challenge here, and this was right up our street. We were eager to give it a go! 
The Process
We've broken down the majority of the build over on Instagram, but the breakdown of the process was as follows: 
CPU mounted onto Motherboard
Motherboard installed
Mounting the radiators
Installing the reservoir
Prepping the acrylic pipes
Filling the reservoir
Flooding the system
Testing, tweaking and quality assurance
Stress testing
Boxing and signing off
The Challenges
That's not to say this build did not have its challenges: The client had their mind set on a very specific case in a very specific colour. Upon researching it, we discovered this case was unavailable. So what could we do? We endeavoured! In came the spray cans! We bought the same case in similar colours for the client (obviously letting them know of our plan) and a can of gold spray paint. Custom painting was entirely new territory for us, but it was a unique challenge and a great learning opportunity. The challenge enabled us to get creative and think outside of the box in order to fulfil the brief. 
One of our technicians noted that the most unique challenge was routing pipes through the case, although the hardest challenge was found in the water system itself. In order to handle an issue with the LCD flow unit, the system had to be drained and refilled, and the drain valve altered to accommodate the changes to ensure the LCD flow unit worked as intended. Working with electronics is hard, and working with electronics and water is even harder, but we've never been a company to back down from a challenge, and so we were able to revise our plans and refill the reservoir. 
The Result
So what did we learn? In short, a lot! This was a unique and incredible opportunity to stretch both our technical prowess and creative muscles. We were humbled to have been chosen to take on this challenge by our client, to be trusted with such a big, specific build and now it's settled into its new home, nothing could have made us prouder. 
For us, this was more than just a custom build. This was a labour of love, something truly bespoke and special. We cannot wait to do it again. Perhaps we can do it for you? Any budget, any customisation; the sky's the limit for a PC that fits your needs. You can either fill in our quick and easy form, or you can hop on our livechat and we can help you build it step by step.