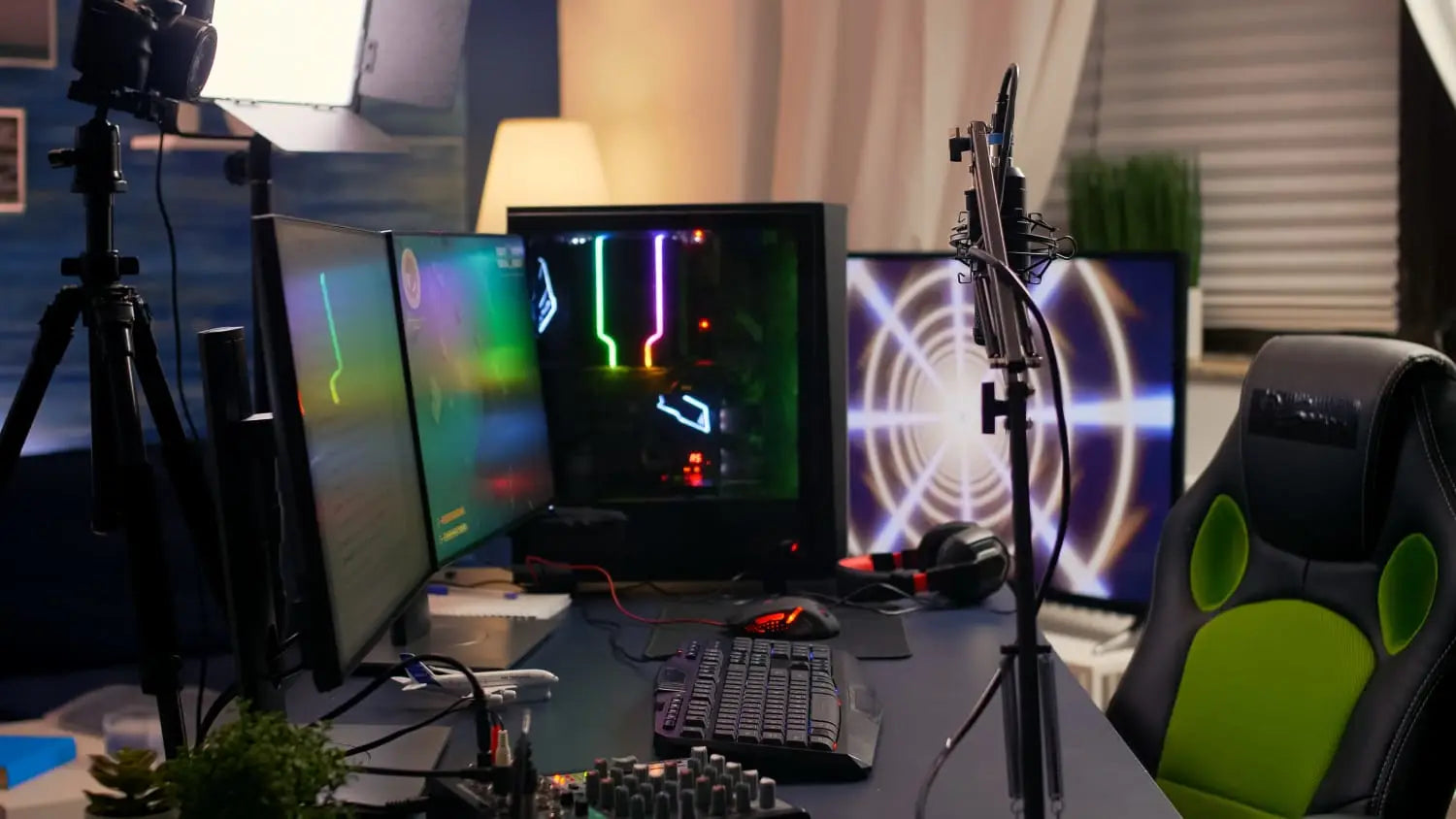 Our Top 3 Favourite Customers Setups
View our top 3 favourite customer setups brought to life by our community!
Full Corsair and Lian Li Sync'd Gaming PC
This Gaming PC was one of the favourites we've made, keeping mainly Corsair and Lian Li components, we were able to have everything Sync'd up through the Corsair iCue software. This PC cost our customer around £3500 and the specs were as followed:
Case: Corsair 5000X RGB
Motherboard: ASUS ROG Strix Z690-F Gaming WiFi Motherboard
Processor: Intel® Core™ i7-12700K
RAM: CORSAIR DOMINATOR PLATINUM RGB DDR5 32GB (2x16GB) DDR5 5200
Graphics Card: Zotac GeForce RTX 3090 TRINITY OC 24GB Ampere Graphics Card
SSD: 1TB SAMSUNG 980 PRO
HDD: 1TB HDD
PSU: Corsair RM850 850W Modular 80+ Gold PSU
Watercooling: CORSAIR iCUE H115i ELITE CAPELLIX All in One 280mm Liquid CPU Cooler
Full White Lian Li Sync'd Gaming PC
This Gaming PC was also one of our favourites to build. The customer send us in a video of a Gaming PC they saw online and we were able to replicate it. We went the extra mile and installed a small LCD screen that the customer can use to monitor their computer hardware. The full white really does look amazing and even better in person. This PC cost our customer around £2500 and these are the specs.
Case: Lian-Li PC-O11 Dynamic Midi-Tower - White Window
Processor: Intel core i5-12600k 3.7 ghz 10-core
Motherboard: Asus rog strix z690-a gaming Wi-Fi d4 atx lga 1700
GPU: Graphics Card: Gigabyte geforce rtx 3070 ti 8 gb vision oc
RAM: Corsair Vengeance rbg pro 32gb (4x8gb) ddr4-3200 cl 16 memory
HDD: Storage: Western Digital black 4tb 3.5 7200rpm internal hard drive
PSU: Cooler Master v sfx gold 850 w 80+ gold certified fully modular sfx power supply
Watercooling: Nzxt Kraken z73 rgb 52.44 cfm liquid
Extra Fans: Lian Li uni sl 120 58.54 cfm 120mm fans 3-pack (x3!)
Strimmer Cables: Lian Li Strimer RGB 24-Pin Motherboard Cable
LCD Screen: ELECROW 5 Inch Raspberry Pi Display Touch Screen 800x480 TFT LCD Monitor HDMI Interface for Raspberry Pi 4 3B+ 3B 2B+ BB Black Banana Pi Windows 10 8 7
Full Pink Build with imported case from America
This Gaming PC was a very custom design that came to us from a game designer. They really love the colour pink and showed us a few examples of cases that they wanted. One case specifically needed to be imported from America, which was the one we decided to go for. They wanted to combine the pink with white, which is why we decided on white components which really sold the build. Of course with a couple of RGB strips to increase speed..This PC cost our customer around £4500 and these are the specs.
Case: Apevia Genesis-PK Mid Tower Gaming Case with 2 x Tempered Glass Panel, Top USB3.0/USB2.0/Audio Ports, 4 x RGB Fans, Pink Frame
Motherboard: Asus ROG Strix Z690-A Gaming WIFI D4 - Intel Z690 DDR4 ATX Motherboard
Processor: Intel Core i9-12900K 3.20GHz (Alder Lake) Socket LGA1700
RAM: Corsair Vengeance RGB PRO SL White 64GB 3200MHz DDR4 Memory Kit
Graphics Card: GIGABYTE GEFORCE RTX 3080 Ti GAMING OC 12GB GDDR6X GRAPHICS CARD
M.2 WD Black SN850 2TB SSD M.2 2280 NVME PCI-E Gen4 Solid State Drive (WDS200T1X0E) 2X
SSD: Samsung 870 QVO SATA III 2.5 inch 8TB SSD
HDD: WD 6TB Black HDD 7200RPM 256MB Cache Internal Performance Hard Drive (WD6003FZBX)
PSU: Corsair RM1000x High Performance Power Supply
Watercooling: NZXT Kraken X53 RGB White All In One 240mm Intel/AMD CPU Water Cooler
Lighting Kit: Phanteks Digital RGB LED Starter Kit
Soundcard: ASUS 7.1 STRIX RAID DLX PCIe gaming sound card set with an audiophile-grade DAC and 124dB SNR